Guitar legend Oghene Kologbo was born in Warri, Nigeria in 1957. His father was the well known highlife musician Joe King Kologbo. When Kologbo was a teenager, he began performing with the revolutionary Afrobeat master Fela Kuti. Kologbo went on to record more than 50 sides with Afrika 70. He played the hypnotic tenor guitar lines, but often recorded bass and rhythm guitar too. Kologbo was Fela's personal assistant and "tape recorder". That is, it was his job to remember the melodies Fela would sing to him late at night, then teach them to the band at rehearsal the next day.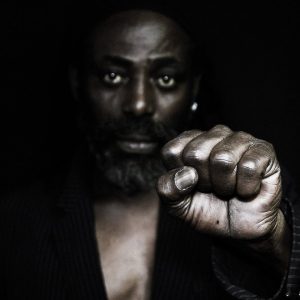 In 1978, after a show at the Berlin Jazz Festival, Kologbo left the band (along with Tony Allen and others) and stayed in Berlin. In the 1980s and 1990s, Kologbo worked with the legendary but short-lived Roots Anabo. He also toured and recorded with King Sunny Ade, Tony Allen, and Brenda Fosse, among others. In 2005, Kologbo began working with the Afrobeat Academy, Berlin's heaviest afrobeat ensemble ̶ which later on morphed into Ebo Taylor's and then Pat Thomas' backing bands ̶ and released together in 2007 the album "Remember Fela Kuti". In 2008 he moved to France to join Tony Allen's on tenor guitar. After nearly a year playing and teaching Afrobeat in Brazil, Kologbo came back to France to work on his new record, "Africa is the Future", produced by Loik Dury and Grant Phabao from the Paris DJs label/media/store.
The new album "Africa is the future" features a range of amazing guests (Tony Allen, Pat Thomas, Antibalas, Newen Afrobeat and Les Freres Smith members, etc...), who have all been significant actors of the afrobeat renewal and emancipation of Fela's codes into a modern music genre, bringing furthermore new influences to the music invented back in the 60's by Fela and the West African jazz and highlife musicians. As Kologbo is a tireless and permanent creator, his label Paris DJs is also releasing a new Kologbo studio song every 6th of each month as Kologbo Day ! 9 new tracks have already been recorded and made available since January 2018 and the release of the "Africa is the Future" LP.